Trump to appear in convention programming beyond his Aug. 27 acceptance speech
President Trump will participate in every day of the Republican National Convention (RNC), a nontraditional move for the nominee who is typically highlighted on the final night of festivities, Fox News has learned.
But Trump already bucked tradition once before when, four years ago, he made a surprise appearance on the first night of the RNC in Cleveland to introduce his wife, Melania, before her speech to the 2016 delegates.
This time around, Trump is slated to give his acceptance speech on the fourth and final night of the convention on Aug. 27 — "probably" delivered from the White House, he told the New York Post. But in the three previous days, he'll be featured in the programming, Fox News has learned.
During one such event, Trump will honor first responders of the coronavirus crisis, including doctors, nurses and Emergency Medical Technicians.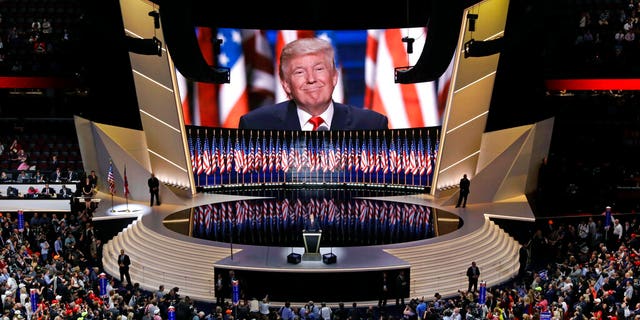 Plans for large scale conventions were already scrapped this year for both Democrats and Republicans because of the coronavirus pandemic, forcing both the Trump and Joe Biden campaigns to plan a mostly virtual event.
The Democrats kick off their convention next week: Aug. 17-20.
Republicans have themed the 2020 GOP convention: "Honoring the Great American Story" and will highlight America's "greatness, opportunity and President Donald Trump's bold leadership."
Each day will have a breakout message. Monday, Aug. 24, will focus on "the Land of Promise," Tuesday will focus on the "Land of Opportunity," Wednesday will focus on the "Land of Heroes," and Thursday on the "Land of Greatness."
Everyday Americans will be featured speakers to talk about how the Trump Administration policies have benefitted them and how changing leadership would be detrimental to America's future.
Carl and Marsha Mueller, the parents of Kayla Mueller, the Arizona humanitarian worker captured and killed by ISIS in 2015, will address the RNC.
Other speakers include Tanya Weinreis, owner of a coffee company in Montana who stayed afloat through a Paycheck Protection Program (PPP) loan, and St. Louis Metro Police Department Sgt. Ann Dorn. She's the widow of slain retired St. Louis police captain David Dorn, who was killed while protecting a pawn shop during a night of violent looting.
The GOP also plans to feature former residents of Venezuela and Cuba, who will criticize Democratic policy toward those nations.